37 BCS non cadre job circular 2018 published the notification to The Bangladesh Public Service Commission for non-cadre posts for those who have not been appointed for the post of shortage due to the shortage of 37th BCS examination and oral examination. Even after passing the written and oral examination of the 37th BCS, the number of those who were not appointed for the post of Cadre due to shortage of education was 3454 people.
According to the recruitment of non-cadre posts issued by the government (Special) Rules-2010 and the revised rules-2014, from the various ministries / divisions of the Government, the vacant posts are assigned to the vacant posts for the first grade [grade-9] / second class grade [10, 11 and 12]. ] Online admission from 3454 candidates who have not been appointed as cadre for the recommendation by the Public Service Commission to non-cadre Call upon notice published on the public service commission.
37th BCS non cadre appointment notice published – 37 BCS non cadre
Application Rules: Non-cadre candidates will have to submit online application form for non-cadre online using http://bpsc.teletalk.com.bd website.
Application deadline: 11 December, 2018 until 05:00 pm
For more information see below this original circular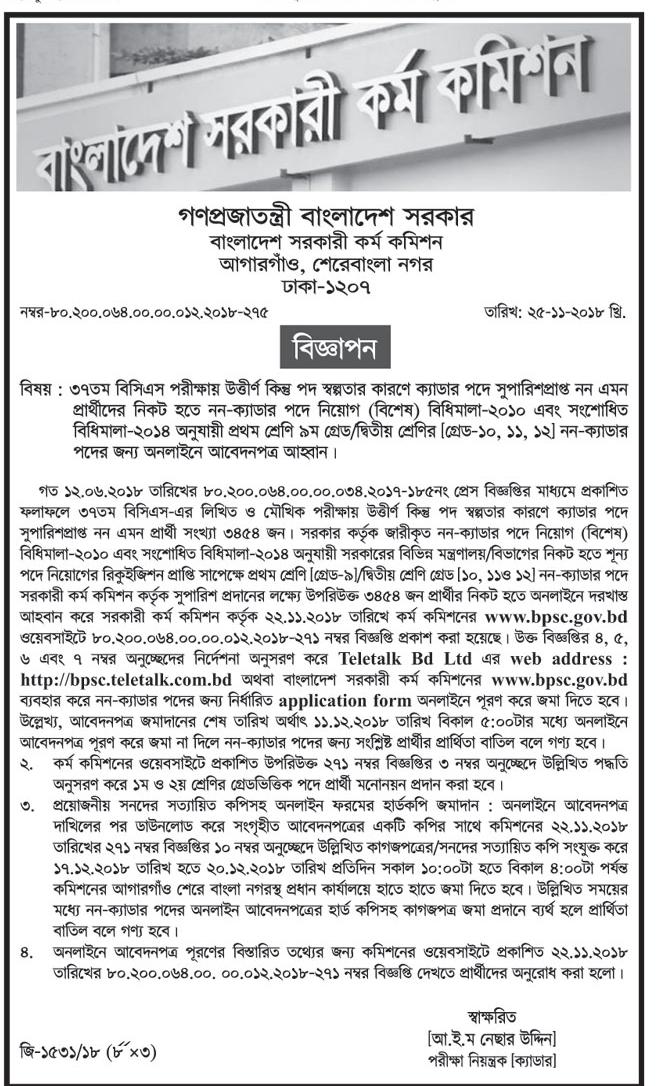 Also, Read This
This page related to: govt jobs, government jobs, latest govt jobs, govt jobs 2018, govt jobs 2019, latest government jobs, government jobs news,government jobs circular 2018, government jobs circular 2019,bd govt job circular 2018, bd govt job circular 2019, all govt job circular 2018, all govt job circular 2019, government jobs in Bangladesh 2018,government jobs in Bangladesh 2019